I recently ran across an old postcard from a local area computer repair shop.  I don't want to quote it because you might think I made it up.  So here's a picture: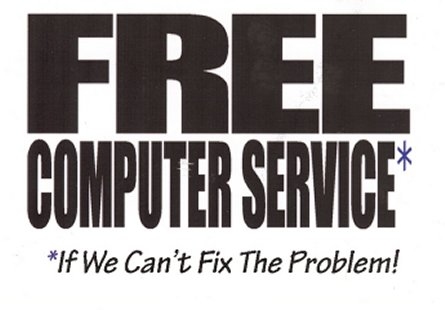 Now, how in the world can the company be comfortable making that claim?  And how would you, as a client, feel about taking advantage of it?
A competent computer technician will tell you at the outset whether he can fix your computer.  I mean, come on!  How many things can go wrong?
Here's a list of the most common hardware problems:
Your monitor no longer displays anything
Your printer no longer prints anything you send to it
Your computer beeps when you turn it on and nothing happens
Your computer doesn't turn on at all
Here's a list of the most common software problems:
Your computer is infected with malware
Your computer displays a blue screen with white text when you turn it on
Your computer freezes in the middle of a game
Your computer displays an "End Program" message when you shut down
Obviously, these are very short lists.  You may encounter other errors from the software and hardware that you are running, but there are very few instances where something absolutely cannot be fixed.  To make the claim this company did is disingenuous; it implies that there will be situations where a customer will receive free computer support.
I certainly don't operate Heliotropic Systems like that.  You know right from the start that all of my work has a 100% guarantee.  If you are not satisfied with what I have done, I will work to correct what ever is wrong – or refund your money.  It is as simple as that.  No muss, no fuss, and no idiotic statements about "free."