I received a phone call from a major distributor earlier this week asking me if I knew about a new line of laptops issued by the electronics giant LG. I admitted that I was a Lenovo partner, and was partial to their offerings, but I was interested in seeing what the competition had available.
A short while later I received the email, the bulk of which is shown below.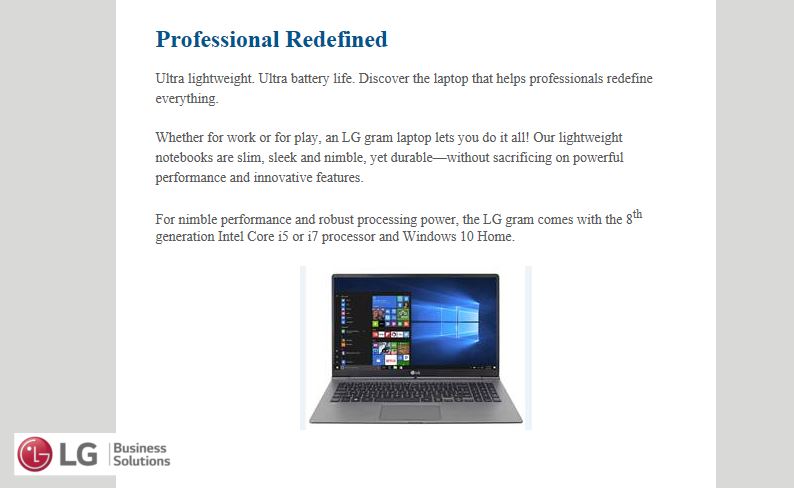 At first I was intrigued, because it looked like it was going to be a light-weight model that could be useful for some road warriors. That is until I got to the last word of the text, and I stopped short. In my head I heard the cartoon sound of tires screeching to a stop.
I then re-read the title, "Professional Redefined." At that point I was horrified because of the dissonance in the ad copy.
It starts with the word "professional" in the first line and ends with the words "Windows 10 Home" in the last.
If "professional redefined" means using consumer-based products in a business environment, I am absolutely and totally against it.
I am a managed services provider (MSP), and I sell IT support services to small businesses.
One of the main points I make as an MSP is that a business must use business-class (or even enterprise-class) products, because they are designed to be properly managed, provide greater security, and offer additional features used by businesses.
Windows 10 Home does not fit in those categories at all.
I cannot, in good conscience, even consider these devices for my clients.  But now I'm wondering how much grief this LG marketing campaign is going to cause other MSPs who will have to tell their clients, "No, I'm sorry, it looks nice and shiny, but it isn't suitable for your office."
And no offense to LG, but if you are going to redefine the word "professional," I would hope – very sincerely – that you would aim for something higher up on the scale, instead of lower.
Thanks and safe computing!