Introducing AOL Desktop Gold
You may have received – or in all likelihood will receive – an email from AOL that reads, in part: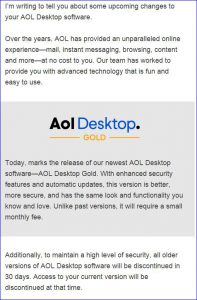 Thanks to one of my clients for forwarding this email to my attention. I had not heard of this before now, so I did some research.
From what I have read in a variety of online forums, this software is a complete travesty. It functions poorly, doesn't address the needs of most users, and is subject to frequent crashes and computer freezes despite the (supposedly) frequent updates from AOL.
I'm not certain what they were thinking – other than asking hundreds of thousands of older adults for $4.99 a month to be able to send and receive emails – but for those of you who have not paid anything for AOL for years, this is a pretty drastic change.
AOL is saying that because they will now offer two-step verification, your AOL account will be more secure. They will be encrypting the emails that are saved on your hard drive so that no one will be able to read them, thus providing you with more protection. And, because you are a paying customer, you'll have access to their tech support (definitely not US-based).
So, what should you do?
I am going to recommend that you DO NOT install this software unless you want the headache(s) of dealing with it. If there ever was a time to break free of the AOL desktop software, it is now. It should not be too difficult, but I'm going to cover the available options – and there are only three.
First, you can opt to sign up to receive the new AOL Desktop Gold software. You must have an existing AOL account and (at some point) you'll have to provide your credit card for the monthly $4.99 charge. The first 30 days are free.
Now I called AOL customer support, and after waiting about 20 minutes for a representative, I asked about that little asterisked statement at the bottom of the email. The one that reads, "To avoid being charged the recurring subscription fee, simply cancel before the free-trial period ends." This means exactly what it says. You can decide you don't want to pay for this new software before you get charged. And when you tell AOL that, the software will stop working. Seriously. You won't be able to access your emails – or your contacts. And you won't be able to go back to the old desktop software version because the new one has scrambled the crap out of your emails. This is a one-way ticket. I warn you not to do it. If you run into a problem after you install this, I won't be able to help you – you'll have to call AOL tech support for help.
Second, you can keep your old software and use AOL in a browser. You will have 30 days from when you receive this email notification until your desktop software will no longer work in terms of sending or receiving email. So you can decide to bite the bullet and use a web browser to work with your new emails, as millions of people do. This isn't a particularly awful transition, because things are pretty much where you expect them. And it is still AOL and all of your stuff is there for you.
Your existing desktop software will continue to let you access all of your email that was "Saved to my PC." You will be able to use any browser (Internet Explorer, Firefox, Chrome, or Safari) to access your mail directly at http://mail.aol.com, where all of our "Saved to AOL" mail exists, as well as your contacts.
All of your downloaded email attachments can be accessed through the Download Manager in your old version of the AOL Desktop software, or through Windows Explorer in the folder where the files were originally saved.
I'm sure at least one of you is going to be curious and ask: Can I archive my old mail? The answer is: Sure you can; but you have to do it one at a time. There is no automated mechanism. You have to open the email, select File, then chose the type to save it as, and then you have to use a unique name for each one. If you have thousands of emails, you'll have to work non-stop throughout those 30 days just to get a small portion of them saved. Not worth the effort…
Third, you can give up using AOL and use another email service. And this means changing your email address, which I know is a horrifying thought. The two free services that I suggest looking at are Outlook.com and Gmail.com. Changing your email address means that you would have to contact everyone you know to say, "Hey here's my new email address." You'll also have to update any website where you sign in, and update any email subscriptions, and your phone and tablet. It is a huge effort, but I wanted to cover all the options. Irrespective of which one you chose, you can save your existing AOL contacts and import them.
Outlook, provided by Microsoft, is a free service that uses the same enterprise infrastructure that Microsoft uses for Fortune 100 companies. Only because you are not a company, you will receive AOL-like ads in your email. You can reduce some of them by using the privacy features in the profile settings. The web interface is clean and pretty straight-forward.
Gmail is offered by Google. It is free; it can be accessed on any web browser anywhere as well as on mobile devices. Similar to AOL, it is not ad-free. The company will display targeted ads; only not based on your activities in Gmail, but instead on things like your Google searches, the YouTube videos you watch, the apps you use, and the websites you visit. You can opt out of those targeted ads — but not Google's data collecting — by turning off "ad personalization" in your personal Google settings.
There you have it, three not so great possibilities, but that's the way of the email world in 2017.
AOL is rolling out this change in waves, so it may be some time before you receive the notice. I just wanted you to be aware of what's going on, and to prepare for it.
Any questions, let me know in the comments.